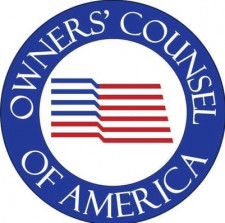 Meet Derrick Braaten and Kim Ellis Ritchie
MILWAUKEE, February 14, 2023 (Newswire.com) - Owners' Counsel of America (OCA), an exclusive national organization of leading eminent domain attorneys, is pleased to announce the selection of two new members for the states of North Dakota and Oklahoma. Derrick Braaten from North Dakota is the owner of Braaten Law Firm, and Kim Ellis Ritchie from Oklahoma is the owner and founder of Ritchie, Rock & Atwood.
Both men practice in the areas of business, agricultural, and real estate law, with a heavy emphasis on eminent domain cases, predominantly (if not exclusively) on behalf of private property owners. Kim Ritchie also focuses on civil litigation, having tried over 75 jury trials over the course of his career.
"We are thrilled to have such outstanding lawyers join our ranks," says OCA's Executive Director Leslie Fields. "These are both states where we have not previously had OCA representation because we were waiting to find the perfect candidates—lawyers that would measure up to our high standards of excellence, experience and dedication to the representation of private property owners."
OCA's standards for adding new members are indeed rigorous, given that only one member per state is selected. "We aim to find the leading lawyers in each state," continues Leslie Fields. "Not merely those with the experience and knowledge to handle complex eminent domain and related matters, but also those who have a passion for representing private property owners against all types of property takings and powerful condemning authorities."
Source: Owners' Counsel of America
Share: