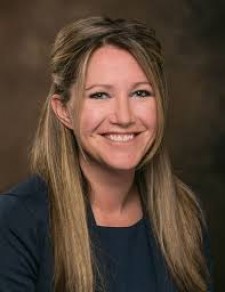 Director of Activism and Coalitions for the Institute For Justice
DENVER, February 4, 2020 (Newswire.com) - On Jan. 25, 2020 at Owners' Counsel of America's Annual Dinner and Award Ceremony in Nashville, Tennessee, Christina Walsh was awarded OCA's highest honor when she received the Crystal Eagle award for her activism, outreach efforts and grassroots organizing on behalf of vulnerable property owners across the nation.
Christina works tirelessly for property owners everywhere who face the forced taking of their property and neighborhoods by eminent domain for private economic development projects that too often are based on baseless blight determinations. Through community meetings, rallies, protests, workshops and strategic grassroots and legislative campaigns, Christina has successfully organized home and small business owners from New York to Chicago to California—all to defeat governmental officials in their efforts to force landowners to transfer their property to wealthy private developers without adequate justification or compensation.
In her efforts on behalf of private landowners, Christina has cultivated strong alliances and coalitions at the local, state and national levels. She provides legislative support to Congress and testifies before lawmakers whenever she can. Christina also coordinates the Institute for Justice's Perspectives on Eminent Domain Abuse and has authored numerous reports on the subject of eminent domain, including the Expropriation on Puerto Rico report which resulted in the introduction of corrective legislation to address condemnation abuse.
Christina's views and writings on behalf of private landowners have been published and appeared in print, online and via television outlets across the country, including ABC News, The Huffington Post, The Washington Post and The Philadelphia Inquirer. Christina received her undergraduate degree in Political Theory from the University of Virginia and joined the Institute upon graduation.
"We are thrilled to be able to give this important award to someone so deserving. Christina Walsh is a firebrand, freedom fighter, and fierce advocate when it comes to protecting private landowners against eminent domain abuse. As such, she represents all that Owners' Counsel stands for and holds dear." -Leslie Fields, Executive Director of OCA.
Source: Owners' Counsel of America
Share: