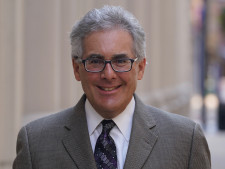 DENVER, February 8, 2022 (Newswire.com) - At Owners' Counsel of America's Annual Dinner and Award's Ceremony held on January 29 in Scottsdale, AZ, the Crystal Eagle was awarded to James Singer, a partner with the law firm of Schuchat, Cook & Werner in St. Louis, MO. Although Mr. Singer has practiced Employee Benefits law for nearly 46 years, he was awarded OCA's highest accolade, not for his legal skills, but for certain extraordinary actions he took as a private citizen. In 2018, Mr. Singer, an avid historian, wrote a heavily researched article regarding a tragic event that happened over 65 years ago involving a prominent African American doctor by the name of Phillip Venable.
Titled "Reckoning in Creve Coeur," the article was eventually published by the Missouri Historical Society. In it, Mr. Singer recounted the story of how Dr. Venable was precluded from moving into a predominantly white neighborhood in 1956 by an orchestrated act of eminent domain, which resulted in both his property and the partially constructed home being taken by the City of Creve Coeur for alleged "park purposes." Despite overwhelming evidence that this action was racially motivated, the Missouri courts upheld the taking.
James Singer, not satisfied with simply writing his article, took all of the research that he had uncovered and used it to mobilize countless others. Eventually, the movement that he helped start led to the City of Creve Coeur publicly acknowledging its wrongful actions and taking meaningful steps towards redressing the injustice that had been perpetrated against Dr. Venable. Here is what one person, Sam Silverstein, had to say about how he was moved to act by the words and deeds of James Singer:
"Jim shared what he had learned with anyone who would listen. He wrote articles. He reached out to community leaders. He reached out to historical societies and universities. In short, he did everything he could to raise awareness about what had happened to the Venable family, and about what he felt needed to happen next."
In late 2019, among other actions taken, the Creve Coeur City Council voted unanimously to officially change the name of the park to H. Phillip Venable Memorial Park. A re-dedication ceremony was held which was attended by many dignitaries, as well as surviving members of Dr. Venable's family.
"Although many people and organizations eventually became involved in bringing about some measure of justice for Dr. Venable and his descendants," says OCA's Executive Director, Leslie Fields, "it is clear that Mr. Singer played a pivotal role, first in writing his historical article and then in galvanizing others to speak out about what had transpired. It is quite possible that without Mr. Singer's involvement, the story of what happened to Dr. Venable and his family may have been lost forever. By awarding the Crystal Eagle to Mr. Singer, OCA's message is that the protection and defense of private property rights is not reserved merely for the lawyers, judges, and scholars among us, but for those private citizens like Mr. Singer who understand their significance, and who care enough to devote their own time, energy and efforts to ensuring that they are recognized and honored."
PR Contact: Executive Director, Leslie Fields ownerscounsel@gmail.com
Source: Owners' Counsel of America
Share: