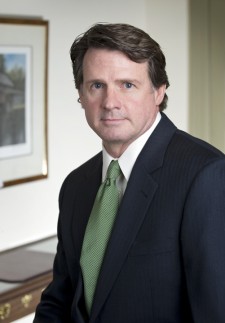 Eminent domain attorney Joseph Suntum will address the importance of private property rights at the 13th Annual Brigham-Kanner Property Rights Conference at the Peace Palace in The Hague.
Jacksonville, Florida, September 20, 2016 (Newswire.com) - The Owners' Counsel of America is pleased to announce that Joseph P. Suntum, will speak at the 13th Annual Brigham-Kanner Property Rights Conference in The Hague this October.  A partner at Rockville-based Miller, Miller & Canby, Chartered, Suntum is the Maryland representative of Owners' Counsel of America, a national association of eminent domain lawyers dedicated to representing property owners in condemnation, inverse condemnation and property rights matters.
Suntum will participate on a panel tasked with exploring the relations and dynamics between private property rights, equality and freedom.   At the center of the discussion is the question of whether the protection of private property rights becomes a barrier for equality and freedom or whether property rights encourages economic, political and social stability and promotes liberty.     
"The ability to own property and have your ownership legally protected has proven to be a powerful foundation of a robust economic system. Legally protected private property ownership has been argued to be 'the guardian of every other right,' and the basis of a free society," said Suntum.  "But private property rights alone do not insure equality or freedom. Rather, the dynamic relationship between private property ownership, equality and freedom dictates the nature of society and the individual's place in it."
Established by the William & Mary Law School Property Rights Project, the Brigham-Kanner Property Rights Conference promotes collaboration between legal scholars and the practicing bar through the annual conference and conference journal.  The 2016 Conference is presented in collaboration with the Grotius Centre for International Legal Studies of Leiden University and will take place at the Peace Palace in The Hague.  Peruvian economist Hernando de Soto, President of the Institute of Liberty and Democracy (ILD), will be honored at the Conference with the 2016 Brigham-Kanner Property Rights Prize for his work advocating for legal and property rights reforms in developing nations around the world.
"The 2016 Brigham-Kanner Prize recipient, Hernando de Soto, is internationally recognized for his work to alleviate poverty by establishing formal and legal property rights in developing countries," said Suntum.  "The success he has achieved through the establishment of a land title program in Peru, demonstrates the fundamental relationship between property rights, economic opportunity and personal liberty."
A former Assistant Public Defender for Montgomery County, Joseph Suntum has achieved significant success over the last 20 years representing property owners throughout Maryland and the District of Columbia in condemnation and land valuation litigation. Decades of trial experience coupled with an intimate knowledge of the law of eminent domain and the science of real property valuation, have equipped him to vigorously defend his clients' private property rights and secure just compensation in condemnation proceedings.  In addition to eminent domain and property rights defense, he practices in the areas of real estate litigation, complex business litigation and appellate advocacy.
About Owners' Counsel of America:
The Owners' Counsel of America (OCA) is a nationwide network of experienced eminent domain lawyers dedicated to protecting the rights of private property owners large and small, locally and nationally, and to advancing the cause of property rights.  The condemnation attorneys affiliated with OCA are in private practice in nearly every state and represent private owners against federal, state, and local governments, utilities, transportation and redevelopment authorities and other agencies that may be armed with eminent domain power.  For more information or to locate a property rights lawyer in your state, please visit www.ownerscounsel.com.
About Miller, Miller & Canby:
In 2016, Miller, Miller & Canby celebrates 70 years of serving the legal needs of metropolitan Washington, DC. As the oldest law firm in Montgomery County, MD, the firm recognizes that this milestone reflects the relationships built and maintained with our clients, friends and the business community, many spanning multiple generations. The firm focuses on five core areas of practice: Land Development, Real Estate, Litigation, Business and Tax, and Trusts, Estates and Elder Law. The firm has intentionally maintained a moderate size in order to ensure that all attorneys maintain close contact with our clients and have the opportunity to develop and foster trusted, lasting relationships. In all of our practice areas, an overarching concern for quality of product and efficiency of accomplishment assures clients that we strive for true value in legal representation. U.S. News - Best Lawyers has awarded Miller, Miller & Canby a "First-Tier" honor for their Eminent Domain and Condemnation practice. Miller, Miller & Canby is proud to have maintained this standard of service since the firm's founding in 1946 and continues to abide by this standard every single day. For more information, visit www.millermillercanby.com.
Source: Owners' Counsel of America
Share: