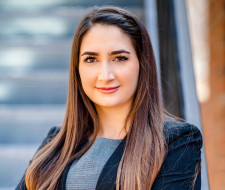 DENVER, November 9, 2021 (Newswire.com) - Owners' Counsel of America (OCA), a national association of experienced eminent domain lawyers is pleased to announce that Nina Sawaya, a second year law student attending Denver University Sturm College of Law, will be the first recipient of the Toby Prince Brigham OCA Scholarship. Created in 2021 following the passing of OCA's founder, Toby Prince Brigham, the scholarship is designed to inspire the next generation of lawyers to take up the cause of protecting and defending private property rights, a cause that Mr. Brigham fought for on behalf of countless property owners during the entire 54 years of his eminent domain law practice.
The prestigious Toby Prince Brigham OCA Scholarship offers the opportunity, at no expense, for a U.S. law student to meet, learn from, and network with the nation's leading eminent domain and property rights lawyers through attendance at the pre-eminent property rights conference in the country, now approaching its 40th year. Held annually at different locations, for 2022 the ALI-CLE Eminent Domain and Land Valuation Litigation Conference will take place Jan. 27-29 in Scottsdale, Arizona.
The decision to select Nina Sawaya was made by the OCA Board of Directors and Scholarship Committee after extensive outreach to several law schools across the country. Personal recommendations were sought from deans, law professors and others with knowledge of students possessing a genuine interest in private property rights. "In selecting Nina Sawaya," says OCA Executive Director, Leslie Fields, "both the Scholarship Committee and Board were impressed with her academic record, proven interest and commitment to private property rights, and her prior work experience in the area of real estate. They felt in the end that she was the ideal candidate. OCA is thrilled to make this professional experience available to such an outstanding student."
During law school, Nina served as the Research Assistant to Professor Jan Laitos who holds the Joe T. Juhan Endowed Professorship in Property Rights and Policy at the Sturm College of Law. "I was delighted to hear of Nina's selection," says Professor Laitos. "The unique focus that DU has placed on property rights programs and courses of study, much of which stems from the generous endowed gift of Neil and Susan Ray, provided a perfect vehicle for students like Nina to deepen their comprehension of substantive issues and best practices in the field of property rights and eminent domain law. It is wonderful to know that there are professional organizations like Owners' Counsel of America that can take the interest which Nina exhibited in law school and show her how it can be cultivated into a full-blown practice area as part of developing a rewarding legal career."
If you, or someone you know, may be interested in applying for the Toby Prince Brigham OCA Scholarship for next year, please contact Leslie Fields, Executive Director of OCA at ownerscounsel@gmail.com or by phone at 303-806-5155.
Source: Owners' Counsel of America (OCA)
Share: